First There Was Third Door From The Left

Third Door From the Left was born out of frustration and thirst. 
Let me start at the beginning. I was walking up Tottenham Court Road one Saturday with Jim Ross, a friend from school when we saw Cosey, Chris, Gen & Sleazy (Throbbing Gristle) walking toward us. We asked for their autographs – they were really nice and told us about a concert they had the next week (at Centro Iberico). We decided to go. We then listened to DOA at a market stall in Soho, and were absolutely awestruck by this new totally different sound. We went to the concert and although Jim found them a little too eerie, I was changed forever. Everything about the sounds, the atmosphere, the video, impressed me. I wanted to be a part of this.
Jim and I went to see TG again, this time they were playing with Cabaret Voltaire and rema rema. Here we met Raye. We got to chatting and realized we lived near to each other. Raye & Jim later decided to start a band - Scenario three. This band never got off the drawing board, but from this, Raye & I did eventually form Third Door From The Left.
I can't recall exactly the first instruments we bought, but it may have been a WASP synthesiser and violin-bass for me and a Korg 770s for Ray. I do remember buying an echo machine from Mark Perry, which we used a lot! I bought a Dr. Rhythm drum machine - a little marvel! Later (around 1980?) I spent most of my college grant on a Roland chorus echo bought from Chris Carter. Raye & I recorded most weekends, generally with no planned "sound", meandering (if that could be used to describe our sound!) around a basic drum rhythm. We found that we got better results recording "on the fly" like this and taping everything, then editing out the crap to reveal...something! When we had a backing track done, we would play that tape, and add to it. All very basic, all very poor quality, but there was no other way for us back then; and to an extent recording this way was a part of the overall atmospherics, a part of the "punk" ideal that was still lingering. Occasionally we would write some lyrics down first, and work from there. when working with the speech tapes (recorded from TV, radio etc) the "on the spot" technique turned out to be the best with things clicking into place nicely the first time, and never repeatable!
We played two concerts - the first was on April 22nd, 1982, and was recorded binaurally (released on cassette as "Live 001 and 002", I don't recall the label). This first concert was tremendous fun - for us! We played at Woodwharfe Studio's in Greenwich - a jazz type club, and they didn't know what hit them! We set up in front of a grand piano if memory serves, and left them dazed and very confused listening to an S&M tape as we walked off the "stage"!
Our second live event was on July 23rd, 1982 at The Ship in Plumstead. Again, it went well for us, although we later heard there was some violence there which was upsetting (we were far too busy to even notice!). For these concerts, we used a pre-recorded backing tape of rhythms and synth, voice-tapes etc and Raye played synths, guitar and vocals while I played bass, synth and took care of synching the backing tapes.
Raye and I met briefly again in 2009 when I went back to England for my mum's funeral. We discussed working together again, and although only one track has come from this so far [link], it is still within the realms of possibility that we will.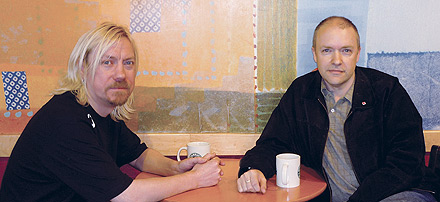 Then There Was we be echo

Why did I start we be echo? Well, I wanted to record still, even after I left TDFTL. I played around with some rhythms left over from third door sessions, and produced the first we be echo release. I continued recording, and I feel I evolved a little through time - although I did suffer from the Yoko-effect in a number of songs. Later, I purchased more equipment - Casio drum machine, Fostek 4-track etc, and released my first "almost commercial" (haha) release "I Dance In Circles", with guitar by a friend of my sister, who's name I'm sorry to say I can't remember. In the reviews section, I've added a review I found that gives a hugely flattering commentary of we•be•echo: The Horror and Mundanity of we be echo, click here to read it.
While recording as we•be•echo, I played keyboards briefly in a band called The Contacts [one release "Magic People" on "From Bromley With Love" LP, 1981] The Contacts were very poppy, and I only lasted a few months with them.
What did I draw inspiration from? Well, just about everywhere – I love music of all kinds, and hope this shows in what I create. As time went on, I grew a little away from the darker side - just because that was the way my tastes were moving.
webe stopped recording when a financial crunch meant selling the gear. No money had been made to support the continuance of webe and so there could be no justification in keeping going.
Then There Was LivingWithanAngel

Why did I start recording again after almost exactly 10 years? Well, the timing was coincidence; I missed recording, and at the time had some spare moments, so I obtained appropriate software, and used my imac [since replaced with a MacPro and now another iMac, they're such amazing machines!] to create some tracks. Digitally recorded, these songs brought new quality and precision to my music, as well as giving me the opportunity to "virtually" use almost any instrument I wanted ( I still miss my old bass though!). 
The new songs have a lighter feel to them than my old musical style, although there are still the same influences that I think can be heard. My new found happiness shows in the songs, and I think the blend of old and new works well.
"Ah Brave New World That Has Such Wonders In It"
Then There Was we be echo again

In 2016, I felt that the we be echo name should be brought to the forefront again. I hadn't pushed or promoted LWAA, that was really just for me. I'm enjoying recording again and working on videos for a couple of songs too. I listen to my music loud, and it's recorded to be listed to loudly - there's so much you'll miss if you don't. The digital workflow, and working on my own means I can record what I want, when I want, and I love that. I have also written a screenplay for a highly unique horror movie, and produced a soundtrack of sorts. Let's see where we go from here.....